Having struggled with digestive issues for much of my life, people have told me before that I should consider doing a "cleanse."  But I must admit, I was skeptical about all of these "cleanses" that have popped up on the market lately.  But when the folks at DrNatura contacted me and asked me to do a review of the Dr Natura Colonix
, I was intrigued.  Whenever a company asks me to review a product that I actually consume, I always do some due diligence before accepting.  After reading review after review of glowing feedback about the Dr Natura Colonix
program, I decided to have an open mind and to give it a try.
For those of you who are like me, and may not know much about what a Colonix is, I will elaborate.  A Colonix is a form of colon cleansing and body detoxification that is supposed to give you a thorough internal cleansing.  The Dr Natura Colonix
program is made up of three different products: the Colonix Intestinal Cleanser which is a fiber supplement for cleaning out your colon and for flushing out toxins – the Paranil, which are capsules containing detoxifying herbs – and the KleriTea which is an herbal tea that will keep your bowel movements regular.  Here is what the instructions look like for a one month cleanse:
Dr Natura Colonix Instructions: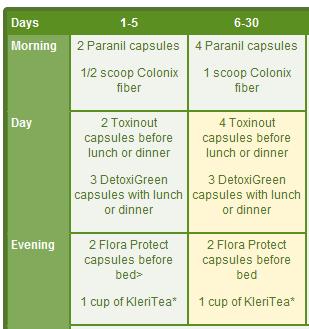 At first glimpse, the Dr Natura Colonix
program sounds a bit overwhelming, but after the first few days it becomes habit.  You start off slowly the first 5 days, and then increase the amount of product that you use for the next 25 days.  The instructions on the Colonix fiber says to mix it into juice, water or your favorite drink.  So I mixed it into my favorite breakfast smoothie of strawberries, bananas, ice and some fruit juice.  The taste of the KleriTea was fine, especially if you like tea like me!  If you do not like tea, I think that adding a little lemon juice would make it even tastier.
DrNatura Colonix Results
This is the most important part of any Colonix review – did it really work?  Like I said, I was a skeptic, but I definitely started to see changes after starting Dr Natura's Colonix.  My bowel movements became extremely regular – as in multiple times a day (sorry if that is too much information … but this is a Colonix review!).  I definitely noticed improvements in my energy level, and even my skin and hair seemed healthier.  But the most impressive thing that Dr Natura's Colonix did for me was to clear up my IBS (Irritable Bowel Syndrome) symptoms.  I am so happy to say that I have not had any "tummy problems" or "bathroom problems" since a few days after I began the Dr Natura's Colonix program.  I wonder how long the results will last for me.  Frankly, I suffer so badly from IBS that even if I have to take Dr Natura's Colonix every 6 months, it will be worth it!
Where To Buy Dr Natura Colonix
You can buy the full Colonix program here: Dr Natura's Colonix
Or you can buy each step of the program separately here: DrNatura Colonix Fiber
, Dr Natura Kleritea
and Dr Natura Paranil
.